Chobani releases a functional non-dairy beverage
Chobani released a non-dairy probiotic drink to further its efforts to expand out of animal-based dairy. The functional beverage is made with an oat base, has 80 calories, 11 grams of sugar and is made with organic, non-GMO ingredients.
Chobani Probiotic drinks come in four flavors: Lemon Ginger, Pineapple Turmeric, Peach Mint, and Cherry Hibiscus. Each 14-ounce bottle will retail for $3.79.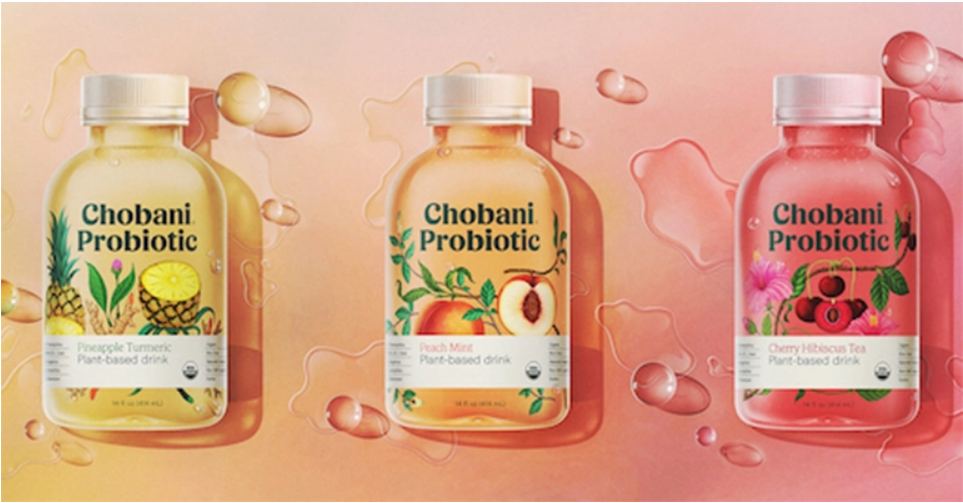 Functional food has become a sought after category for consumer looking to get more out of their food and drink than just a full stomach. In fact, 65% of adults are searching for functional benefits in their food with fiber, protein, vitamin D, whole grains and nuts and seeds accounting for the top five ingredients that consumers are seeking to add to their diets, according to IFT data.
Snacks and beverages – two categories that this new Chobani drink fits into – are primed to benefit from this push for functional nutrition. Sales of functional snacks are projected to reach $8.5 billion by 2020, an 11% compound annual growth rate, per the IFT report. Beverages too are cleaning up their act and the report indicated that clean label ranks second only to natural in the top 10 most high-demand beverage attributes. With Chobani's new probiotic drinks boasting no added sugar and a lactose-free profile, the company is aligning itself closely with these growing trends.
It is particularly notable that Chobani is launching an oat-based beverage as the company announced that it will pursue an oat-based platform at the end of 2019. This ingredient has made headway in the beverage space in recent years and saw an enormous boost in sales during the pandemic. Nielsen data showed that sales of oat-based beverages grew 347.3% for the first week of March. Chobani has been able to capitalize on this swelling demand with its launch of Chobani Oat Drinks and oat-based coffee creamers within the last year.
Recently, this Greek yogurt behemoth has been aggressively pushing into non-dairy categories. In addition to oats, Chobani has a coconut-based line of yogurt products as well as a nut butter-focused yogurt line.
This approach has helped the New York-based company stay on top as the yogurt category has dwindled about $400 million since 2015, according to Nielsen data. Plant-based offerings, however, have exploded in popularity and companies that have gotten onto the bandwagon have reaped the benefits. Plant-based milk – the category that Chobani is looking to corner – is especially lucrative. with the total market expected to surpass $21 billion by 2024, according to a 2019 from MarketWatch.